TOYOHASHI CITY MUSEUM OF ART AND HISTORY
3-1 Imahashi-cho, Toyohashi-shi,Aici-ken,Japan
440-0801 TEL (0532)51-2882 FAX (0532)56-2123

Introduction
The Toyohashi City Art Museum, located in a quiet and serene atmosphere surrounded by trees in a corner of Toyohashi Park (former Yoshida Castle Ruins) opened on June 1, 1979 as a fullscale cultural museum. Since it' s opening, the museum has sponsored exhibitions featuring local art, historical data and the permanent collection as well as offering works of both domestic and international fame. In addition, the museum has published catalogues relating to the above, offered special lectures and series of lectures to the general public. The exhibition rooms located on the first floor are also used by individuals and groups to display their works.
Art Museum Information
Exhibition Rooms
Located on the first floor are three exhibition rooms used for museum-sponsored exhibitions as well as for individual or group use.
Permanent Collection Exhibition Rooms
Located on the second floor are five exhibition rooms used for permanent display of the museum's collection of archaeological specimens, ceramics, historical data and also for special exhibitions on a certain theme.
Collection Materials
Introduction to the Collection Materials
Archaeological Specimens
Relics from shell mounds, ancients tombs, old kilns and ruins from Toyohashi and the surrounding area. Approximately 2,000 items
Folklore Data
Silk worm raising , silk production, agriculture, lumbering, fishing, daily life articles. Approximately 2,000 items
Ceramic Materials
Containers and cups used for Sake (Japanese rice wine) from Edo to early Meiji period donated by Tadashi Tsukasa . Approximately 1,200 items
Historical Data
Data donated by the Okouchi family, local documents. Approximately 30,000 items
Art Objects
Paintings and other works of local artists. Approximately 850 items
Museum Hours
9:00 am to 5:00 pm
Closed
Mondays, end and beginning of the year
Transportation
Take streetcar from Toyohashi station and get off at Toyohashi kouen mae.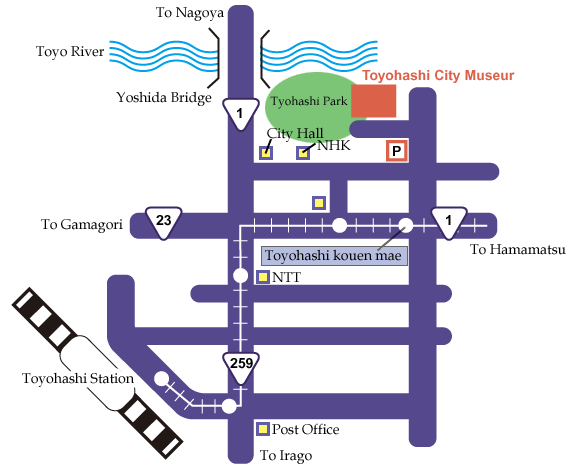 Click here for Google Maps directions.

Construction Outline
Location
3-1 Imahashi-cho, Toyohashi / inside Toyohashi Park
Structural Plan
Ferro-concrete, one portion is 2-storied steel frame Building Area 2,867.3625㎡
Total Floor Area:
1st Floor  2,389.8575㎡
2nd Floor  1,391 .5525㎡
Total     3 ,781.4100㎡
この記事は 2014年01月31日に更新されました。